The Importance Of Education In Life
Today on the national education day of India, let us know about the importance of education, and the history and purpose of education. But, before that let me tell you what is National education day in brief.
What Is National Education Day?
Every year on 11th November, India observes the birth anniversary of Maulana Abul Kalam Azad as the National Education Day. Maulana Abul Kalam Azad, the first Education Minister of India. In 2015, the Central Board of Secondary Education (CBSE) chose to honor his birthday as National Education Day for his contribution in the field of education.
When Is National Education Day In India?
Abdul Kalam Ghulam Muhiyuddin Ahmed bin Khairuddin Al-Hussaini Azad was born on 11 November 1888 in Mecca. He was a freedom fighter, activist, an educationist, and a senior leader of INC. He became identified as Maulana Abul Kalam Azad. Maulana Abul Kalam Azad used to write poems in Urdu. He constituted the national education system in the country. Besides, he also endeavored to make free primary education accessible to every household.
Exerting an important step in the field of education, Maulana Abul Kalam established the University Grants Commission (UGC) and Indian Institute of Technology (IIT) and became the first Education Minister of India. His contribution in the development of education provided a new concept to the education system of the country. He received India's highest honor Bharat Ratna in the year 1992 for his excellent and laudable contribution in the field of education.
Education Meaning
Education makes a human knowledgeable and constructive in the society and nation in which he resides. It isn't only acquired by going to school or reading books, education is a constant process of learning. It means to learn or gain knowledge or to give knowledge. Thus, education is a never-ending learning process, whether you learn it from your teachers, parents, society, or acquaintances.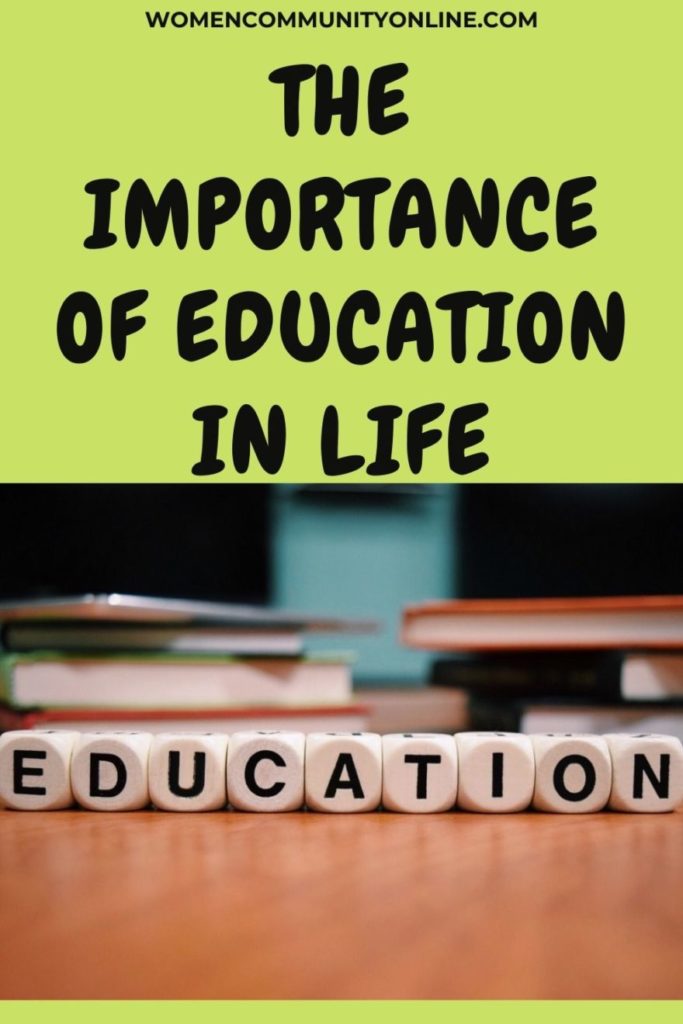 What Is The Importance Of Education In Life? Why Education Is Important?
Ever since the origin of human civilization, India has been renowned for its culture and knowledge. Even in the present time, great philosophers and educationists are fulfilling the effort of highlighting the objectives of Indian education. Education plays an important role in the development of the country. Well-educated individuals are strong pillars of a developing nation. They are the bright future of the country. Not only this, education provides experience and the ability to withstand major barriers faced by an individual, family, society, and even country.
In older days, the education system was costly and challenging for poor people who were not able to get higher education after their secondary education. For this various schemes got into effect by the Government of India to make the education system easier, accessible, and less expensive for all.
Importance Of Education For Girls
Educated girls and women are able to shape their future and be financially independent. Many brave female fighters, scientists, lawyers, writers, have already set an example and have shown the world the importance of education. Their contribution to the nation and world are thus marked in golden letters. An educated and sensible lady plays an influential role in the development of the country. Educated women are more confident and capable of providing education to others. Not only this, she can even ease the labor and responsibility of guys in various fields.
For the betterment of Indian society and the whole world, every girl should be well educated. Educating a girl means educating a whole family. An educated woman can add to her life partner's income by contributing her income to take care of her family well. Today's women can handle well both family and office. Regardless of age, caste, or gender, education is an essential part of living life. It also helps prevents gender discrimination. The education of girls is very essential for the socio-economic development of the country. Educated girls have made a positive impact on Indian society by contributing in fields of science and technology, defense, education, medicine, business, etc.
At present, various government plans are working to promote the education system so that everyone has access to a proper education. The Government of India is doing everything possible to ensure the development and safety of girls in our country. For this, many commercials displayed in public places, on television, newspapers to explain the importance and benefits of girl's education. Among them, Beti Bachao Beti Padhao, Sukanya Samriddhi Yojana, Balika Samriddhi Yojana, CBSE Udaan Schemes are the prominent ones.
Education History & Purpose
During the historical Vedic era, the purpose of education was to strengthen, preserve and expand national resources, literature, and culture. In the Vedic era, education meant a necessity to become enlightened. In ancient India, after celebrating their Upanayana Sanskar, children learn Vedas in gurukuls. This Sanskar is also known as Vedarambha means the learning of Vedas and Upanishads in a gurukul. Gurukul is a place where students from the age of five to the early twenties. Disciples stayed away from their home, undergo all hardship to get knowledge.
In the Vedic era, even though girls were not sent to gurukul, girls and women were as equal as men in education and even excelled men in various intellectual disciplines. They were more knowledgeable and well-versed in mantras and Vedas.
Samavartana sanskar or after completing the education, each student had to offer Guru Dakshina. Guru Dakshina is a token of respect to their guru. After that, his disciple headed for the commencement of the second most vital stage of life called the Grihastha Ashrama.
Even though with passing time, the purpose of education has reified views, but in ancient India, the primary aim of education was to promote feelings of virtue and religious life for the personality and character development of the youth.
It is our misfortune that some people in the rural areas still think that education is not necessary for a girl. Girls become victims and get ignored because of such thinking. The basic problem behind such thoughts is a lack of knowledge. It is our duty to educate such people. It is also necessary to clear their doubts and encourage them to educates their daughters.
You May Also Like