Indian Bridal Makeup Look Ideas
India's wedding industry has always been a boom from December- January, and March-May. If you too are going to tie the knot shortly, and want to cut expenses on wedding costs, one thing you can do is to follow these bridal makeup look ideas and be your own makeup artist. Be your own bridal makeup artist by following these easy bridal makeup look tips and ideas step by step.
Every bride desires to look her best and unique on her wedding day. For this, she will definitely not neglect to do experiments in her looks. Experimenting and following the latest trends, can make her bridal look more beautiful and classy. Not only this, but she can even be a trendsetter by doing something distinctive. You just have to know about makeup, makeup tools, and makeup concepts according to the season. So let's know what things can be done or included to make your bridal look a masterpiece.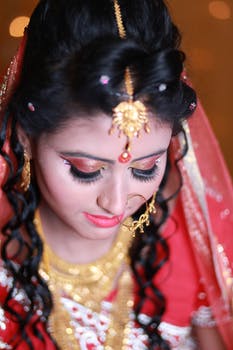 How To Get Perfect Indian Bridal Makeup Look On Your Wedding
Step By Step Tips For Bridal Makeup
The occasion of marriage is exceptional for everyone. Particularly for the bride and groom, the rush of the wedding and the busy routine often have a significant impact on health and beauty, which starts to appear on the face and the rest of the body. It is difficult to get attractive beauty only with external makeup, for that, the bride needs to have a proper plan that enhances her both inside and outside. She must start her pre-bridal preparations at least one month before the wedding.
1. Pre-Bridal Skincare Routine
Start prepping your skin with a pre-bridal skincare routine at least one month before your wedding. 
Detoxify
Start with Detoxify a month before your wedding. Use natural detoxifying food items like apples, flaxseeds, green tea, lemons, carrots, broccoli, seasonal fruits, oranges, fruit juice, water, etc. Natural detoxifying food can help you expel harmful and non-essential constituents from the body. Avoid fatty acids, oily food, fast food, hot and spicy food, and junk food, and eat more fruits and green leafy vegetables. Also, take a diet rich in antioxidants, vitamins, minerals, amino acids, and protein. Drink as much water as possible a month before marriage. Drink at least 2-3 liters of water a day.
Skin Care
Do deep cleansing on your skin, neck, and take steam to improve blood circulation around your face, and make your skin firm and smooth. Regular deep cleaning with scrubbing and a facial massage with a nourishing cream will leave a natural glow on your face within a few days. Or, massage your body, hands, and feet with olive oil regularly. Also, Read Face Clean up Tips at Home.
Pay Attention To Your Hands and Feet Too
Often in looking beautiful, we ignore our hands and feet. Get your waxing, threading, pedicure, and manicure done before your wedding. Also, get your nails in good shape before your wedding day. Heel your crack heels as well. Also, Read – 11 Effective Cracked Heels Home Remedies.
Face Mask
Apply a face mask, or get a facial on your face, to clear your skin and lighten skin tone. Be careful you use products that are natural and don't cause harm to your skin.
Relax Your Eyes
Use aloe vera eye pads or put cucumber slices on your eyes to relax them and lessen the appearance of dark circles.
Hydrate Your Lips
Use lip oil daily at night to massage your lips and lessen chapped and dark lips.
Hair Care
Apply your hair oil regularly. You can also apply henna in your hair twice before your wedding. It will repair your damaged hair and make your hair healthy, shining, and voluminous.
2. Do Not Stress
It is difficult to remain stress-free in the race of the preparation of the wedding, but stress can drive away all your natural glow and you will look lost and missing throughout your wedding. The more you stay off stress, the occasion of the wedding will pass perfectly and swiftly.
3. Right Makeup Products
Before applying makeup, know your skin type and season, and apply makeup accordingly. Note that if your wedding is at night then you should use dark shades of makeup.
If it is summer, then keep your bridal makeup look very light. If you have flawless skin, you can skip the foundation and use BB and CC creams on your face. They will provide you light thin coverage and its SPF formula will also protect your face from sunlight. During summer, use light shades of lipsticks rather than darker shades. Due to the sweat in summer, the bride's makeup often gets dulled, so choose oil-free waterproof makeup products. If your skin is oily, get makeup products that are oil-free and going to stay matte on your face.
In winter, the skin displays dryness, causing dullness on the face, so for bridal makeup, choose makeup products that don't create flakes or patches on the skin. Dry skin needs extra hydration, so if your skin is dry, get makeup liquid water-based hydrating products. If your skin is sensitive, use fragrance-free products with fewer ingredients. Avoid products with alcohol content, retinoids, and alpha-hydroxy acids.
4. 
Bridal Makeup For
Face
Cleansing, Toning & Moisturizing
Before starting your makeup, follow your CTM (Cleansing, Toning & Moisturizing) to remove dirt and clear clogged pores. This will give your skin a soothing effect and provide nourishment and moisturization to your skin.
Primer
Use a primer to blur out fine lines, wrinkles on your face. Priming will prepare your skin for makeup, and you can work along with shades on your face just like a canvas.
Foundation
After priming, wear the foundation using a beauty blender, brush, or sponge. Foundation will uniform the color of your skin tone and cover imperfections. Only if you have a lot of flaws, then use a concealer before foundation otherwise use a concealer after applying a foundation. Choose the foundation that matches your skin tone. If you get a foundation of a lighter shade, then it will look drab, and affect your wedding pictures.
Concealer
Then use a concealer. A concealer or color corrector reduces the appearance of dark circles, spots, large pores, and other small blemishes on the skin.
Contour
Contour your face structure with brown-matte shade contour stick darker than your skin tone. Read How to Contour your Face in 5 easy steps.
Powder
Use a loose translucent powder or setting powder to fix your make up to create a finished bridal look.
Blush
Apply blush to your cheekbones using a brush. Use pink, red, and orange blushes for bridal makeup. Don't add too much redness to your face keep it a natural blush.
Highlight
Highlight your prominent facial features to make them shine under light using a shimmer power on the cheekbones, eyebrows, and T-zone.
Set Your Makeup
After creating full bridal makeup, set your bridal look with a makeup setting spray. By doing this, the makeup will stay on your face for longer.
5. Bridal Makeup Eyes
Prep your eyes before starting your bridal eye makeup. It is essential to first hide dark circles, spots, wrinkles under the eyes to achieve perfect eye make up. Use a to conceal dark spots and blemishes. After applying the concealer, choose the eye makeup that matches your attire.
Eyeshadow is also extremely important to create a flawless bridal look. Neutral eyeshadow with light glitters is perfect for a bridal look. Also, it is easily matched with all kinds of outfits and accessories. But do not overdo it to worsen your look. Eyeliner gives a good shape to your eyes, winged eyeliner with neutral eyeshadow is perfect for your bridal look. After this, apply mascara to complement your eyeliner and the eyelashes. You can also use fake lashes. After the mascara dries, use a curler to curl your eyelashes.
If you want to highlight your eyes without applying more makeup, then apply kajal to the upper lash line also, and in the eyes. Make it a bit wider, so that your eyes look more beautiful from your transparent dupatta.
6. Lips
Dark and heavy makeup colors that match with your married outfit can make you look worse. So, keep the makeup as natural as possible with light neutral colors, especially on your lipstick. The shade of lipstick weighs a lot in the bride's makeup look. The shade of the bride's lipstick also depends on her skin tone and lip shape.
Try nude lipstick this time apart from red, orange, maroon, or purple. But, if you want colored lips, then include burgundy color in your bridal lipstick it looks good on every type of skin tone. Ideally soft pink, peaches, and cream, light corals, rosewood, or dusty rose colors go well with fair skin. Medium peaches, pink corals, apricots, and terracotta for medium skin and bright coral pink tones, deep fuchsias, magenta, and burnt oranges for dark skin tone goes well.
Always apply a lip base to your lips before applying lipstick, and then line your lips.  Use lip colors accordingly which goes well with your complexion. Brides with thin lips should avoid lip gloss and use a lip liner first then fill the lipstick, while girls with fuller lips can easily use lip gloss. Also, Read How To Make Lipstick Last All Day
7. Hairs
If you want your hair to look the most beautiful on the wedding day then do a deep conditioning treatment for your hair. Deep-conditioning locks hair's moisture content and keeps you hydrated, reducing hair damage and breakage. To do deep-conditioning at home, take one cup of yogurt, and apply it nicely on your hair, scalp, and length. Allow it to rest for 30 minutes, then wash it off with lukewarm water. You can use this method for deep conditioning your hair one in a week before your wedding. Yogurt will make your hair soft, healthy, and shiny. Alternatively, you can also use a blend of half a cup of raw milk and one banana similarly.
It is also crucial to pay attention to the bride's hairstyle in bridal makeup. After grooming your front hair, make any hairstyle you want. A messy bun or braid always compliments the bridal look, because it adds beauty to a variety of hair accessories. So, style your hairs accordingly to complete your look. In bridal makeup, the bride has a middle parting to place a maang tika in the center. In the end, set your hairstyle with hairspray, so that your hairstyle does not get scattered.
8. Jewelry And Accessories
Your bridal look is incomplete without jewelry and accessories. But avoid overdoing the accessories. Try your accessories with your dress before your wedding day to check everything is just perfect and goes well with your outfit like you planned, it is the only way to get it right.
After your full bridal makeup completes, put a bindi in the middle of your forehead that matches your wedding dress. Select bindi according to your face. From outfits to bridal makeup more experiments can look over at your wedding. So remember to keep everything light as possible.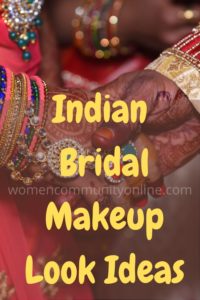 You May Also Like