Mango Mousse Recipe Without Gelatin And Eggs
Mousse served as a light and fluffy dessert is an origin of France. It is made with fruit pulp or chocolate, egg white or whipped cream, and gelatin. Gelatin and eggs are used to stabilize it. Mango Mousse is a light, and creamy dessert recipe. A nice and healthy alternative to ice cream. Its made with ripe Mangoes, Sugar, and whipped cream. Here I'm sharing a Quick and Easy Mango Mousse Recipe Without Gelatin And Eggs.
Easy Mango Mousse Recipe Without Gelatin And Eggs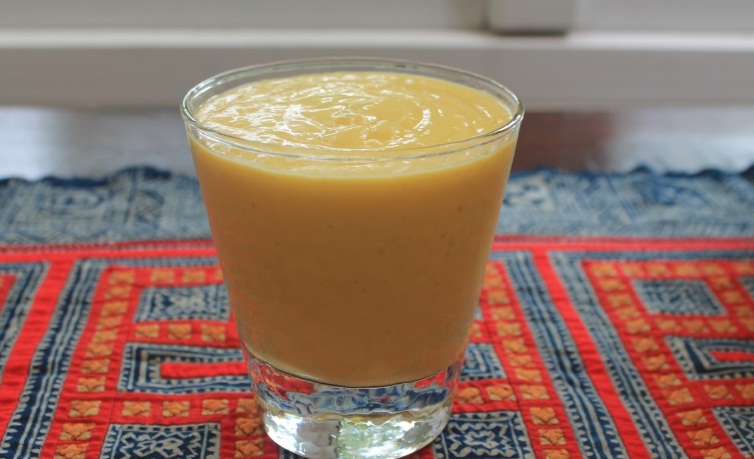 Ingredients
Ripe Mangoes- 2 nos or Mango Pulp- 1 cup
Powdered Sugar- 2 tablespoon
Whipped Cream- 2 cups
Chopped Dry fruits for garnishing
Servings: 4 to 5
Preparation Time: 20-25 minutes
Mango Mousse Recipe without Gelatin and Eggs
Wash and peel Mangoes and puree them in a mixer until smooth. 2 nos of large mangoes, preferably Alphonso, will yield about 1 cup of mango pulp. You can also use store-bought mango pulp.
Take a round bottom bowl and add heavy whipped cream and powdered sugar to it. Beat the heavy whipped cream and sugar mixture on high speed for 2 minutes with an electric beater.
Fold mango pulp into whipped cream to form a homogeneous mixture. Be cautious that over mixing can lose the air from the cream.
Refrigerate this mixture for at least 2 hours.
Take a dessert glass and pour mango mousse in it.
Garnish Mango Mousse with chopped dry fruits on top.
Easy Mango Mousse Recipe Without Gelatin And Egg is ready to enjoy.
Summer has arrived. Why not make the best use of the seasonal fruit Mango? Mango is a delicious tropical fruit that not only tastes good but has high nutritional values also. However, the diabetic patient should always eat mangoes in moderation. You can try this easy recipe at home which is loved by all age groups. This recipe is also an ideal party dessert. So if you're having a party at home you can add this quick and hassle-free dessert recipe to your list.
Pin Mango Mousse Recipe Without Gelatin And Eggs for later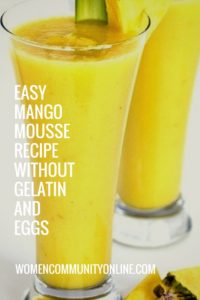 You May Also Like