Rakhi – A Knot that strengthens Sister and Brother Bond
The Indian festival Raksha Bandhan is also known as Rakhi in abbreviated form. This year this festival that celebrates the sister and brother bond is arriving on Thursday 15th August, along with Independence Day of India.
Rakhi or the Raksha Bandhan festival comes in the Hindu month Shravan. The festival of Raksha Bandhan falls on the full moon day of Shravan. So it is also called Nariyal Purnima, Rakhi Purnima, and Kajari Purnima. The word Raksha Bandhan is the combination of two Sanskrit words, Raksha and Bandhan. Raksha means protection and Bandhan means a bond or a tie. Together it means a tie or knot of protection. This festival symbolizes the sister and brother bond and their relationship. It isn't limited to brother and sister with a blood relation, but its also celebrated among cousins. The whole of India celebrates the Rakhi festival in different forms. The festival symbolizes the protection of the virtue and end-all unrighteousness.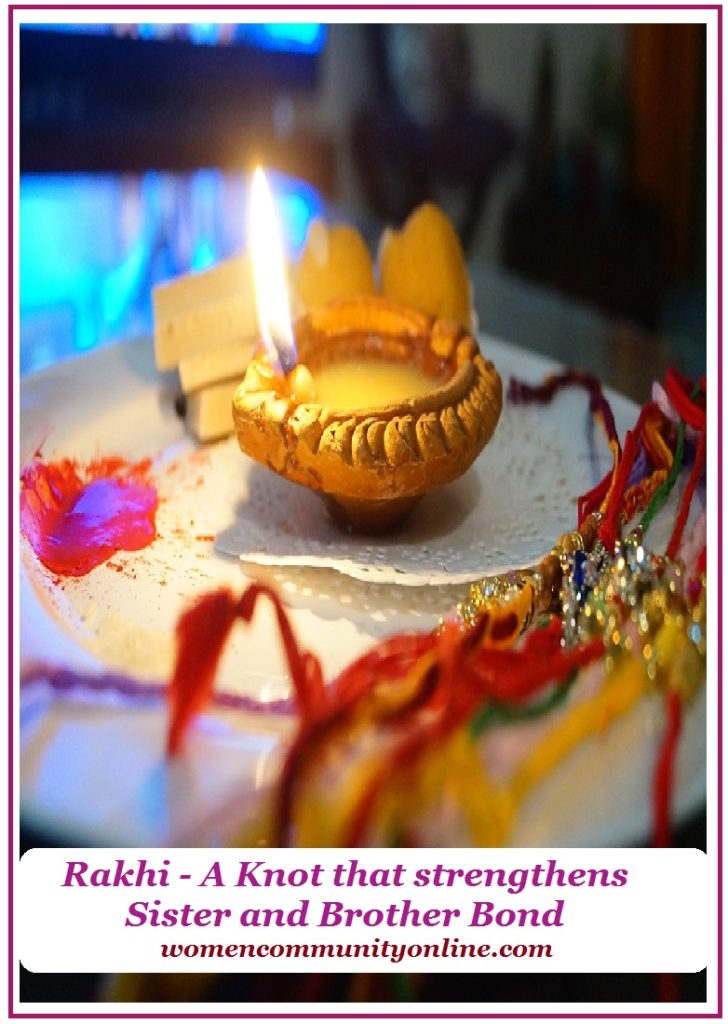 Why is the Rakhi festival or Raksha Bandhan celebrated?
The bond between siblings is always unique and remarkable and so, it is of extreme value in one's life. The festival of Rakhi has traditional importance in India. It strengthens the sister and brother bond and celebrates the love between sisters and brothers. Sisters tie a rakhi on the wrist of her brother and pray for his wellbeing and prosperity. In return, brother gives gifts and promise to his sister that he will protect his sister in every circumstance. Thus, the concept of Rakhi or Raksha Bandhan means the protection or the duties of sisters and brothers.
The significance of Rakhi
Relationships are the heart of any occasion or festival in India. The festival of Raksha Bandhan is also one of them. The festival is celebrated by tying a rakhi between a daughter or mother, sister in law, neighbors or close friends, and a disciple and his Guru. It's seen in the Indian history that a wife has tied a Rakhi to her husband for his protection in the war. I remember the days when I was in school. In those days our school used to conduct a Rakhi making competition before Raksha Bandhan. The best part of this competition was that the best rakhis were sent to Jawans (Soldiers) fighting on the border for the country.
So, Rakhi is a sutra or a sacred thread of protection that is not just restricted to the blood relatives. For this purpose, the Rakhi Utsav was first promoted by Rabindranath Tagore. Its aim was to encourage harmony and also the feeling of protection and commitment among the members of society.
The history behind the Rakhi Festival
The festival of Rakhi has begun many centuries ago. Various mythological stories are associated with the festival of Raksha Bandhan. Some of the Hindu mythology stories are shortly illustrated below. These stories depict a similar way to the Raksha Bandhan celebration but in a different context.
The story of Indra Dev and Sachi
Indra was the Lord of Heaven and Sachi was his wife. According to holy Bhavishya Purana, once a violent battle rise between the Gods and the powerful demon Bali and his demons. The battle continues for many days resulting in no conclusive end. Devi Sachi in worry for her husband decides to visit the Lord Vishnu for the solution. Lord Vishnu gives her a Raksha Sutra made of cotton thread to tie on her husband's wrist. Sachi tied this Raksha Sutra on her husband's wrist and Lord Indra was successful in defeating the demons. Hence, it is believed that the festival of Raksha Bandhan is not limited to sisters and brothers.
Goddess Lakshmi
According to Puranas (holy book of Hindus), After Lord Vishnu won three loks (worlds) from the powerful demon Bali. Demon Bali asks for a vow and requests him to stay with him in his palace. Lord Vishnu accepts his demand. But, Goddess Laxmi, the wife of Lord Vishnu wanted him to return back to her in his native place Vaikuntha. So, Goddess Lakshmi ties a rakhi on Bali's wrist and made him her brother. In return gift, the Goddess asks Bali to free her husband and allow him to return to Vaikuntha. Its believed that this was the full moon day of Shravana.
Santoshi Maa
Manasa the sister of Lord Ganesha, once visited him on the Raksha Bandhan festival to tie him a Rakhi. Shubh and Labh wish for a sister from their father because they had no sister. Shubh and Labh were the two sons of Lord Ganesha. Therefore, Lord Ganesha decided to fulfill the desire of his son. He created Santoshi Maa through the divine flames for his two sons for the festival of Raksha Bandhan.
Krishna and Draupadi
According to Indian mythology, Once while managing sugarcane, Lord Krishna got hurt in his little finger. Seeing him bleeding, Rukmini, his wife went to get a bandage. On the other hand, Draupadi was watching the whole incidence. She cut a piece of cloth from her saree and tied it on Shree Krishna's finger to stop bleeding. In return, Lord Krishna promised her to help her in need. He fulfilled his promise in an event of epic Mahabharata. Kauravas tried to disrespect Draupadi in front of their whole assembly. Draupadi cried and pleaded to everyone for help. Shree Krishna was a God. He came to protect Draupadi by providing her with a boundless saree to save her from the humiliation.
Queen Karnavati and Humayun
Karnavati was the Queen of Mewar. After the death of her husband, Bahadur Shah, the last Mughal emperor tried to invade Mewar again. Rani Karnavati started to seek help from her neighboring kingdoms. She also wrote a letter to Humayun asking to help her kingdom. She sent a Rakhi to Emperor Humayun and asked for his protection. Humayun belonged to a different religion, still, he went to help her. However, it was too late because the queen's army was defeated by Bahadur Shah in Chittor. So, to save her dignity she set herself on fire. Later, Emperor Humayun returned Mewar to Vikramjit, the son of Rani Karnavati. Such is the sacred thread Rakhi, the perfect symbol of sister and brother bond, which don't need a blood relation.
Raksha Bandhan or the Rakshi celebration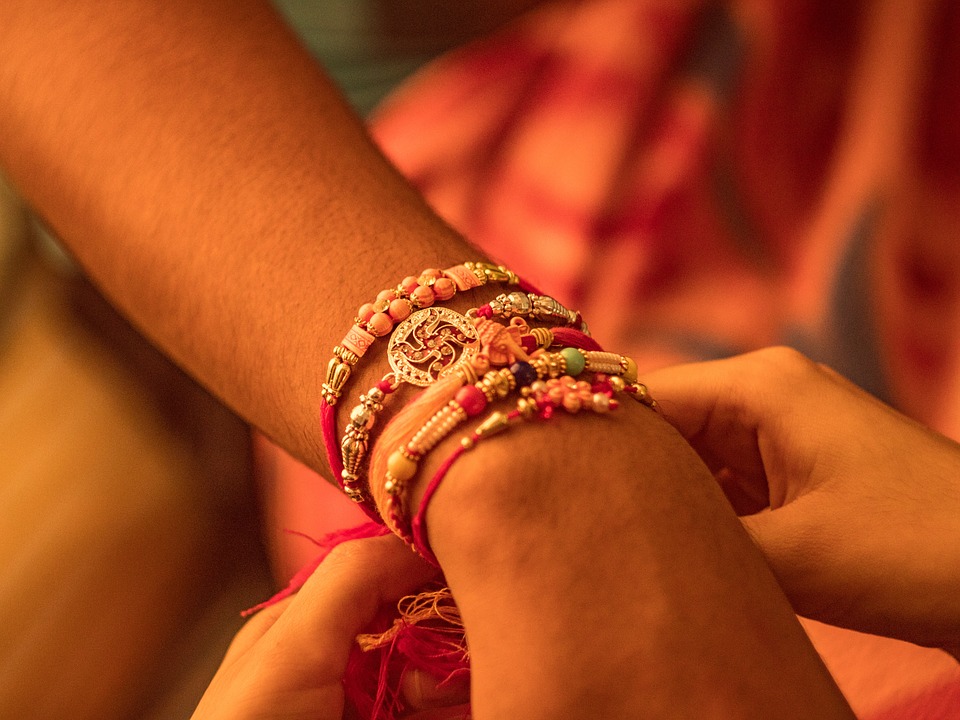 The celebration of the Rakhi festival is mainly observed by the western and northern states of India, and Nepal. This festival has the utmost significance in Jainism also. On this day, the Jain priests offer sacred threads to their devotees.
On the day of Rakhi, sisters who are married generally visit their brother's house. She decorates the pooja thali with kumkum, Diya, raw rice, sweets, and Rakhi. Sister applies a tilak ( colored sacred mark in the middle of the forehead) to her brother and ties the Rakhi on his wrist. She offers him sweets and do arati and pray for his good health and prosperity. The brother in return gives a promise to his sister to protect her from all evils in all phases of life. They keep their rakhi till Dussehra / Vijaya Dashami. Therefore, Rakhi is considered a sacred thread that represents the duties, love, and a bond of protection, a knot that strengthens every sister and brother bond.
These days character rakhi and cartoon rakhis are very popular among kids. Rakhi comes in different types. There are simple rakhi, character rakhi, spiritual rakhis, jewel-stone based rakhis, and many more. They're made with plain cotton, zardozi, sandalwood, satin ribbon, beads, and jewels.
Rakhi symbolizes the supreme bond of love, care, and respect. The festival of Raksha Bandhan promotes universal brotherhood. It teaches to incorporate positive behavior and actions in our life.
You May Also Like: