How To Whiten Underarms Naturally At Home
Know-How to whiten underarms naturally at home with these effective ways to whiten underarms naturally. Due to dark patches under the arms, have you also distance yourself from your favorite sleeveless outfit? Often, we select the wrong clothes, whose fabric may hurt our armpit or make armpits darker than their original tone.
Dark underarm is a common problem most men and women face. They spend dollars on several treatments, lotions, creams to get rid of them and make numerous efforts for that. But, results may not be desired for all, in that case, you can rely on some simple home remedies to heal your problem.
Do not worry now, you can take help from some of the things available in your kitchen to evade dark underarms. These home remedies will help you get rid of black armpits in a few weeks.
Causes Of Dark Underarms
Dark armpits or Dark underarms can be the effects of a skin condition named, acanthosis nigricans, that causes the skin to discolor. It thickens and darkens body folds and creases. Typically, acanthosis nigricans impact the underarms, inguinal region, and neck. Apart from this, the potential external causes for dark armpits can be the excess use of deodorants, antiperspirants, shaving, wrong clothes, tight clothes, hyperpigmentation, obesity, dirt, or dead skin cell accumulation under the armpits. These dark underarms not only look ugly but sometimes may cause inflammation, injury, and friction.
Simple Ways To Prevent Dark Underarms
The problem of dark underarms can be controlled by following a decent lifestyle and proper diet and adopting home remedies.
Eat healthily and get involved in physical activity to reduce obesity or avoid being overweight.
Do not wear tight sleeves clothes as they cause friction and darken your skin.
Refrain from using a razor for hair removal under the arms if facing a dark armpit problem.
Avoid using excessive talcum powder and deodorant.
Exfoliate underarms twice a week to eliminate dead skin cells, bacterial infection, and dirt under the arms.
How To Whiten Underarms Naturally At Home
Generally, to get rid of blackness under the arms, people first try home remedies. You can make use of some readily available kitchen ingredients like fruits, herbs, oils, and vegetables to reduce the problem of the dark armpit. Generally, these natural ingredients are acidic in nature. They naturally possess bleaching, anti-microbial, and skin-lightening properties in them to combat dark or uneven skin.
1. Yogurt
The lactic acid, vitamin B5, and B12 present in yogurt help in lightening the skin tone. At the same time, it also eliminates the dryness of skin under your arms.
You can use yogurt in three ways to treat dark underarms.
First, take apply a thin layer of yogurt directly on your skin and let it stay for 15miutes. Then wash it when dry. Do this every day for a few days to notice a desirable change.
Second, you can add 1 spoon of yogurt, 1 teaspoon honey, and half teaspoon turmeric and apply it to your black underarms. Let it dry then wash it off with water.
Third, take 2 teaspoons gram flour and 1 teaspoon of curd. Mix them and add a pinch of turmeric and a few drops of lemon juice. Mix well and apply this as an ubtan or a pack under your arms, dry skin, and body. This pack is effective to treat tanning, skin discolorization, and scars. Leave this pack for about 30 minutes then wash it with water. Repeat this daily or thrice a week before bathing.
2. Turmeric For Dark Armpits

The Curcumin compound present in turmeric acts as an antioxidant skin lightening agent to treat dark patches on the skin. By using it you can easily eliminate dark armpit skin problems.
Mix 1 teaspoon turmeric with 1 teaspoon of lemon juice and make a paste. Apply it on your underarm and wash it off on drying. Lemon and turmeric help in skin whitening and eliminating dirt and bacteria under the arms. Or, make a paste by mixing one teaspoon turmeric powder, one teaspoon honey, and one teaspoon milk. Apply this paste on the dark armpits and wash it with water after 10–15 minutes.
3. Tomato
The bleaching properties in tomatoes help eliminate darkness in the armpit and other skin issues. Also, it can reduce sweating which is a major cause of dark underarms.
Take a tomato slice, put some sugar on it, and scrub it well on your black underarms. Wash it after 10 minutes. Do this every day before bathing for a few days if you have extreme dark armpits. Additionally, you must use tomatoes in all your meals.
4. Sugar
The problem of black underarms is also due to the accumulation of dead cells. Therefore, to avoid this, scrub the affected area properly. For this, you should use sugar and honey. Sugar when mixed with honey acts as a dirt eliminator and skin lightener.
Mix one spoonful of honey in 1 teaspoon sugar and apply it on black underarms. Scrub it with a light hand for a minute or two then leave it. Wash it after 5 minutes. Do this every day and gradually gain relief from this problem soon.
5. Papaya
The Pa-pen enzyme present in papaya acts as a skin lightening agent that serves as one of the best home remedies for dark armpits. Moreover, it also helps in the repair of the damaged skin tissue under your arms.
For this remedy, take a small piece of papaya and mash it in a bowl. Rub it directly under your arms or dark skin. Wash it after 10 minutes.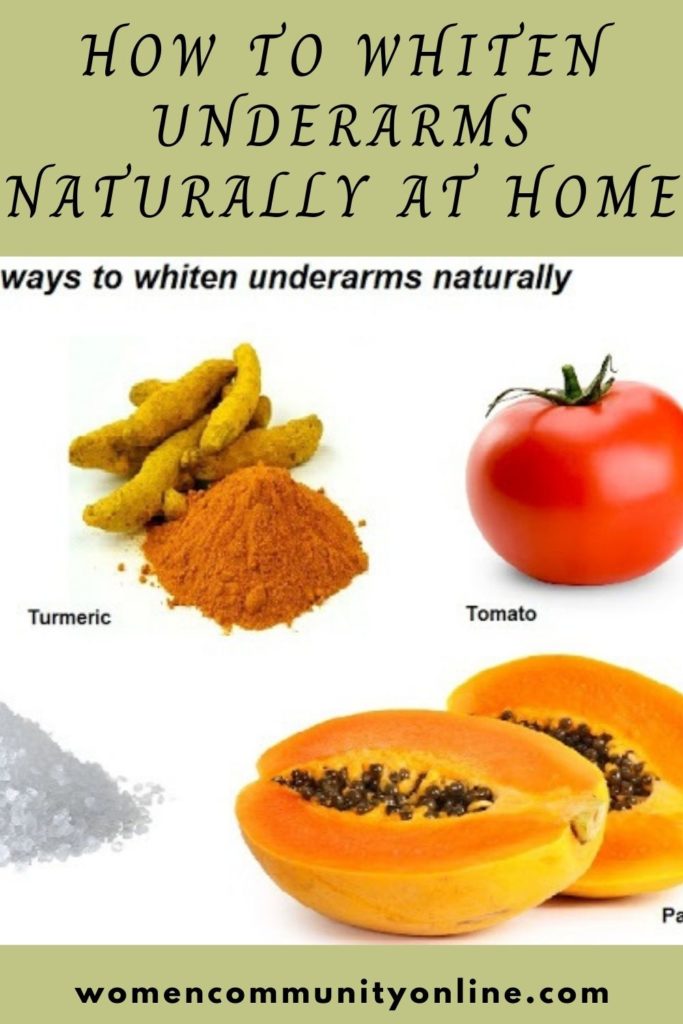 6. Lemon For Dark Armpits
Lemon juice contains citrus acid that acts as a natural exfoliant and bleach. It has natural bleaching properties to remove darkness and blemishes. Moreover, it also possesses antibiotic properties to eliminate dirt, bacterial, and infection.
Squeeze a half lemon juice and apply it using a cotton ball on the affected skin leave it for 2 to 5 minutes, depending on the sensitivity of your skin. Later wash it off with water. You can use this in a daily routine before taking bath.
7. Cucumber
Cucumber juice contains naturally hydrating properties and minerals like potassium and magnesium, that support healthy skin and removes skin darkness. Also, it helps sustain your armpits soft and beautiful.
You will have to grate a half cucumber with a grater for this home remedy and extract its juice. Apply this juice or pulp over dark underarms and leave it for 10-15 minutes before washing it off. This cucumber juice remedy will also help lighten ta skin.
8. Aloe Vera
Aloe Vera contains natural medicinal, anti-microbial, soothing, and healing properties in its gel. The gel of Aloe vera has been used widely in treating many diseases, it has health and beauty benefits. Aloe vera contains Aloesin which inhibits the activity of a copper-containing enzyme called tyrosinase, which is responsible for the production of melanin, skin pigmentation, and darkness under the arms by oxidation. In addition, aloe vera has antibacterial properties that help to cleanse the skin under the armpit and prevents irritation and itching.
Cut out an aloe vera leaf and scoop out its gel using a spoon. Apply this gel under your arms and leave it for 10–15 minutes and then wash it with water. Repeat this remedy regularly, the darkness of the underarm will gradually disappear.
9. Orange Peel
Orange peel has natural exfoliating properties that remove dead skin cells and lighten skin tone. Use orange peel powder to reduce the blackness of the skin under the arms.
Dry the orange peel under the sun and grind it into powder. Mix this powder with milk or rose water to reduce darken the skin. Allow this paste to stay and dry for 10 to 15 minutes before washing it off with cold water.
So the next time when you eat oranges, don't throw them away. Sundry them and grind them to form a powder ad use them to obtain clear and beautiful skin.
10. Coconut Oil For Dark Armpits
Coconut oil possesses skin-friendly antioxidants and fatty acids that keep your skin healthy and hydrated. It also has natural antibacterial and antimicrobial properties that protect your skin against bacterial activity and reduce acne, pimples, dirt, and inflammation. It can eliminate bacterial activity responsible for unclean and dark underarms.
Take some coconut oil in your palms and massage it on your underarms. Leave it overnight and wash it the next morning while bathing. This will also reduce body odor caused due to excess sweaty underarms.
11. Potato For Dark Armpit
Potatoes have natural bleaching properties. It reduces skin darkness and helps soothe itching and burning under the arm. Potato juice also works efficiently in eliminating the discolorization of the skin caused due to pigmentation. Peel and grate a half potato and press its juice out in a bowl. Apply it underarms, allow it to stay, and then rinse after 20 minutes.
12. Apple Cider Vinegar
ACV or Apple cider vinegar comprises acetic acid, that has antibacterial and antifungal properties, which may help cleanse the skin and prevent infections caused by microbes. Apple cider vinegar can help to reduce uneven skin tone and skin pigmentation. Mix equal parts of apple cider vinegar and water in a bowl and apply it to your dark underarms. Let it stay for 3-4 minutes then wash it off. Do not apply apple cider vinegar on the skin without diluting.
13. Milk
Milk is not just nutritious but also a versatile home remedy for various skin problems. It contains lactic acid that lightens skin tone effectively skin and expels dead skin cells and hinders its further accumulation. Dip a cotton ball in raw milk and gently moisten your dark skin with it. Wash it off after 10 minutes. Do this daily before bath.
14. Fuller's Earth (Multani Mitti)
Fuller's Earth can absorb all kinds of impurities present in the skin. and also open up clogged pores. Apart from this, it has brightening effects on the skin, and can also help to shed dead skin under the arm. Take one teaspoon fuller's earth powder and add lemon juice to it to form a thick paste. Apply this paste on the underarm and allow it to dry properly, then scrub it off using water.
15. Sandalwood Powder
Organic sandalwood powder possesses antiseptic properties that inhibit acne, blemishes, and uneven skin tone. It also eliminates dirt and bacterias causing skin problems. Mix one teaspoon sandalwood powder in two teaspoons of raw milk. Apply this paste on your underarms, then wash off with water.
16. Black Currant Seed Essential Oil

Black currant seed is also known as Munakka comprises a natural source of gamma-linolenic acid, omega 3, 6, and 9, which is a good source of antioxidants that maintains skin elasticity, treats uneven skin tone, and makes skin more radiant. Take a few drops of blackcurrant seed oil in your palm and massage it gently on your dark underarms and skin. You can also use this essential oil in winter when the skin tends to get drier due to temperature drops. Blackcurrant seed essential oil is also excellent to repair dry skin.
17. Tea Tree Oil And Almond oil 
Tea tree oil contains antioxidants and also has antimicrobial properties, that combat microbes residing under the arm. It cleanses your skin and underarms and also relieves you from breakouts and body odor. Besides, almond oil contains phytochemicals called glycoside amygdalin, which lightens and whitens the dark underarm skin. Moreover, the vitamin E content in almond oil acts as a natural bleaching agent. Mix two drops of tea tree oil with one tablespoon of almond oil and massage daily with this blend under your arms.
18. Baking Soda
Baking Soda has essential odor-fighting and exfoliating properties, that may expel dead skin under the arms and also prevent underarm odor. Mix 1 teaspoon baking soda in 1 teaspoon water or rose water. Apply this paste on the underarms and put it for 3-5 minutes. Then wash it off gently while scrubbing it off with cold water.
Baking soda is more alkaline in nature than skin so, use it in a minimal amount. If not used carefully, it can irritate your skin upset the skin's natural pH balance.
19. Alum
Alum is well known for its antiseptic and astringent properties and it is widely used in making deodorant, gels, or cosmetics as an effective remedy for various skin problems. It stops the growth of bacterias responsible for body odor-causing bacteria and eliminates microbes causing excess sweating. Besides, alum also controls the pH level of the skin and reduces the darkness of the underarms. Mix equal parts of alum powder and water and apply it on dark underarm. Allow it to stay for 10-15 minutes then wash it off with water.
20. Appropriate Diet & 
Hygiene
Instead of depending on only skin whitening lotions and home remedies, you must undertake skin-lightening foods too. There are natural fruits, herbs, and veggies that serve as a good skin-lightening agent. Sometimes the cause of the darkness on the skin can be a lack of proper nutrients in the body. Therefore, you should set up a strict menu to maintain a proper diet chart for yourself.
Reduce intake of starch and sugar and consume food rich in vitamins, proteins, and minerals. Food items that act as natural skin brighteners are eggs, lemons, oranges, pineapples, watermelon, mango, papaya, cucumber, tomatoes, spinach, avocados, garlic, walnuts, apricot, etc. Apart from all these measures, proper hygiene, drinking plenty of water, and getting adequate sleep are also essential.
Daily bathing isn't just enough to get rid of dark underarms. Cleansing and exfoliating are essential parts to maintain the hygiene of underarms. Cleanse your underarms daily with a moisturizing body wash to subdue the growth of odorous dirt, germs, and bacteria. Gently exfoliate your underarms or body twice a week with a body scrub. This will help to spur cell rejuvenation and unclog skin pores.
The above kitchen ingredients are the most effective ways to whiten underarms. Adopt these methods to notice an advantageous change in your dark skin tone. Repeat these home remedies twice a week until you notice the desired results. This will reduce the black underarms problem in a few weeks. If your skin is sensitive then first take a patch test. Do not use these remedies after shaving and if there is a cut or burn under your arms then do not use these remedies.