Home Remedies To Cure Acne And Pimples
Treat Acne and Pimples Naturally – Do you have acne and pimples? If yes, get rid of your acne and pimples naturally with home remedies. These basic home remedies to cure acne and pimples naturally will also help you heal skin inflammation quickly and with no side effects.
In today's time, many boys and girls are concerned the most about one thing, and that is the pimples on the face. Spots and pimples on anyone's face do not look good making a beautiful face look unpleasant. Generally, acne and pimples are more common in teenagers and adolescence. Once pimples and acne start appearing on the face, it is quite difficult to remove them.
In today's time, our external beauty is most important for many of us. Everyone is conscious to create their own identity. But when there are acne and pimples on the face, it reduces our confidence. If you are also troubled by acne and pimples, then this article can help you a lot in getting rid of them. By adopting these home remedies mentioned in this article, you can easily eliminate acne and pimples from your face. Let's find out which are those home remedies to cure acne and pimples but before also know the causes of acne and pimples and know how to prevent them.
Causes Of Acne And Pimples
Hormonal imbalance
Lack of proper skincare
Stomach disorders
Using oil-based creams and lotions on the face
Oily skin
Less intake of Water
Bad eating habits
Consuming an excessive amount of oily food
Overexposure to Sunlight
Can also be hereditary
How To Prevent Acne And Pimples
Refrain touching your face unnecessary. Also, avoid touching your face with unclean hands as unwashed hands may contain bacterias. Therefore, wash your hands thoroughly before touching your skin.
Always use matte sunscreen when stepping out in the sun also refrain from direct contact with the sun and polluted places. Use a scarf to protect your face from dust and sunlight.
Avoid eating fatty food, instead, consume fresh fruits and juices. Drink the recommended amount of water regularly.
Wash your face frequently and stay away from oil-based creams and lotions. Also, avoid harmful chemical-based products and cosmetics.
Clean your stomach to prevent the constipation problem.
Follow a CTM skincare routine.
Take adequate sleep.
Avoid consumption of alcohol and tobacco.
10 Home Remedies To Cure Acne And Pimples Naturally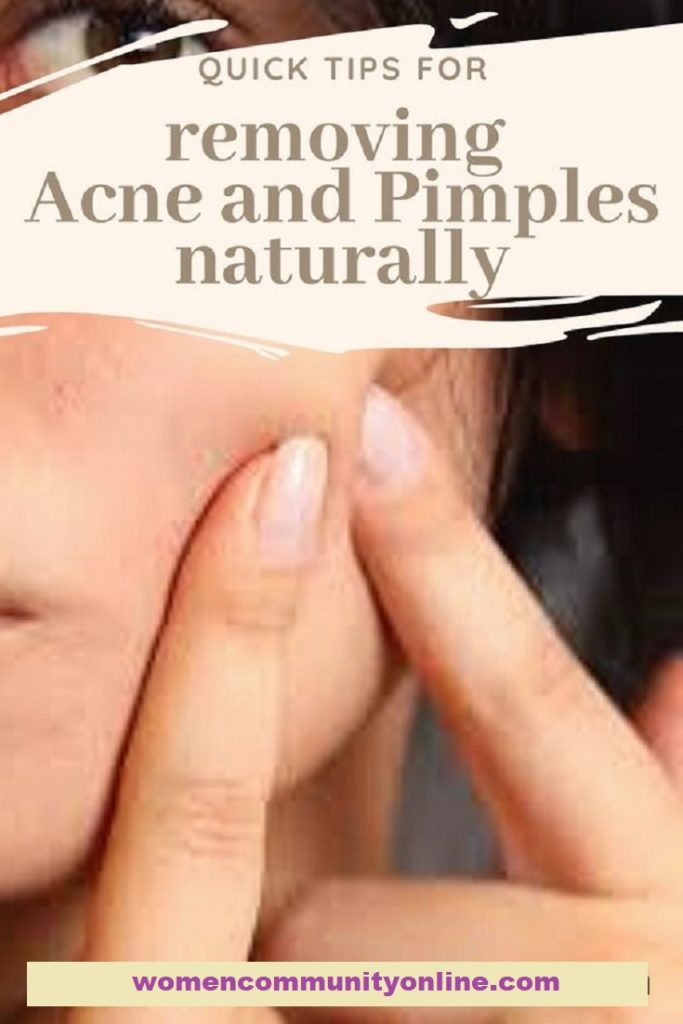 1. Ice Cubes
Wrap an ice cube in a cotton cloth and massage your face or affected skin with it for a few seconds.
Rest for a few minutes and then again.
Do this a few times. You can also use a cold gel pack.
Doing this will make your pimple disappear in just two days.
2. Honey
Apply raw honey to the skin blemishes, and leave for 20-30 minutes and then wash with warm water.
You can even mix a little cinnamon powder with honey and apply it to your pimples and acne.
do this regularly till your pimples and acne fade. You will see a noticeable result with glowing skin.
3. Lemon
Dip a cotton ball in lemon juice and dip it on your pimples and leave it for few minutes. Wash it if it starts tingling. Otherwise, Wash it with cold water after 5 minutes.
This will quickly cure your pimples and fade your marks and also lighten your skin tone evenly. But don't forget to moisturize your skin after doing this remedy.
4. Use Fenugreek
Fenugreek helps in maintaining our skin clear. It also helps reduce blemishes.
You will need to make a paste out of fresh fenugreek leaves and apply this paste on your acne and pimples for 15 minutes and then wash it off with plain water.
Alternatively, you can also use 1/2 cup dry fenugreek seeds and boil them in 2 cups of water. Use this fenugreek water to spray all over your face, acne, and pimples.
5. Use Potato
Potato juice and potato mash work excellent on acne and pimples.
Mash some potato and put it on your scars. Or you can apply potato juice all over your face with the help of a cotton ball.
6. Apply Cucumber To Cure Pimples
Cucumber is rich in essential elements like potassium and vitamins A, C, and E which help maintain healthy glowing skin.
Cut cucumbers into pieces and prepare a face mask with cucumber and apply it on your face for 15-20 minutes and wash your skin with cold water. This will also clean dirt and bacteria from pores on your face.
7. Papaya
Papaya is good for both your skin and hair. It contains Papain that provides protein to your skin.
Apply papaya mash on your pimples and let it rest for 15-20 minutes then wash it with plain water.
Alternatively, you can also mix some honey with papaya mash. Use this method daily for noticeable results.
8. Use Aloe Vera Gel
Aloe Vera is a versatile Home Remedy to cure Acne and Pimples naturally. It soothes and reduces inflammation caused due to pimples and makes your skin soft.
Apply the Aloe Vera Gel to the affected skin for 30 minutes. Later wash your face with plain water.
9. Make An Orange Peel Paste
Orange is the Best Home Remedies to cure Acne and Pimples naturally. It contains citric acid which has vitamin c. It has astringent properties that help to deal with bacterias causing skin inflammation and dead skin.
Take powdered orange peel in a bowl and mix milk in it. Apply this face pack on your skin and let it dry for 30 minutes and then wash it with warm water. You can also use sandalwood powder and orange peel powder with milk.
10. A Banana Peel
Rub a banana peel all over your face to reduce skin inflammation and redness on the skin.
Let it rest on your skin for 20 minutes and later wash it with water.
These were some simple Home Remedies to cure Acne and Pimples. Acne and Pimples need serious, consistent efforts to remove them. They won't fade overnight, and you should use your preferred remedies mentioned above in your daily routine. Don't forget to keep patience because natural methods gradually make their impact if you keep using them consistently.
Note: Before you use anything new on the skin, always do a patch test first on your hand.
You May Also Like