How To Remove Sun Tan Naturally
11 effective home remedies to remove sun tan naturally, that not only treats tanning but also heals the damaged skin. These home remedies to remove sun tan can be made with available ingredients in your kitchen. If used regularly can be very beneficial to the skin and also helps you get clear skin naturally.
When enjoying on vacation and getting out under the sun, it is natural your skin gets tan. A little tanning is obvious. It will turn your skin color a little dark. Many people worry about this and run to the salon to get their skin treatments, but by adopting simple and basic home remedies this suntan can be removed instantly or in just a few days. But, before starting on with a new home remedy you need to have basic knowledge about suntan and sun damage and what are its causes.
What Causes Sun Tan?
Exposure to UV radiation can have several health consequences. It can cause skin cancer (melanoma and nonmelanoma), premature aging, skin damage, eye disorders, cataracts, and even suppress the immune system. There are several medicines for tanning and tanning accelerators are also available commercially. But, they can be lethal and may change your skin tone, and can cause liver damage and serious eye disorders.
Most women are more likely to get indoor tanning without outdoor sun exposure. Indoor tanning is caused by indoor tanning equipment that emits ultraviolet radiation.
There are three types of ultraviolet radiation in the sun's rays categorized based on the measure of their wavelength measured in nanometers. They are ultraviolet A (UVA), ultraviolet B (UVB), and ultraviolet C (UVC).
Both UVA and UBA can contribute to skin cancer. Ultraviolet A has a longer wavelength as compared to ultraviolet B and it is responsible for tanning, premature aging, and wrinkles formation. UVB rays and have the potential to even damage the DNA in skin cells and cause sunburns. UVC has the shortest wavelength and is more powerful and also dangerous than both UVA and UVB. Direct skin exposure to UVC radiation can cause severe burns on the skin as well as ultraviolet keratitis or photokeratitis.
Darker skin tones have higher melanin cells than people with lighter skin tones. They are naturally guarded against the sun. The reason for this is that due to melanin, the skin is protected from these harmful rays of the sun. Melanocytes are cells that make melanin. Melanocytes in darker skin tones make more melanin cells. But melanin cells don't guaranty immunity for all harmful UV rays, they still have a risk to get sunburned.
However, 10 to 20 minutes of sun exposure is essential to get enough vitamin D naturally depending on the sensitivity of your skin. Vitamin D is necessary for our body it promotes our overall health. So, apply sunscreen during your morning fitness routine or relaxing under the morning sun. Also, don't refrain from your skincare routine before stepping out under the sun. Sunscreen with SPF 50 is considered best to prevent tanning. It shields your skin and prevents sunburn. Apply sunscreen on your face, hands, neck every two to four hours on washed skin when exposed to sunlight. Also, regular exfoliation with a homemade scrub can help remove tan by lightening the skin tone and by removing dead skill cells on the dermis of your skin. So exfoliate your body and skin regularly.
Natural Sunscreen Lotion SPF 50 PA+++ For Indian Skin
11 Home Remedies To Remove Sun Tan Naturally
1. Lemon 
To Remove Sun Tan
The natural bleaching property present in lemon juice due to the presence of vitamin C helps fade tan instantly. Lemon juice works as a natural tan removal agent. Also, the citric acid found in lemon juice heals acne and lightens skin tone.
Rub a lemon slice on your tanned skin.
Allow it to rest for some minutes then wash it off.
2. Use Besan (Gram Flour) and Turmeric
Both Gram flour and turmeric possess natural skin lightening and whitening properties. When applied can be used as an effective tan removal at home. Also, they help revive your original radiance, tackle uneven skin, and improves skin complexion.
Ancient Ayurvedic Healing Enriched with Turmeric
For Skin Lightening & Tan Removal
Take two tablespoons of besan and add a pinch of turmeric powder to it.
Add one tablespoon of milk and rose water to it. Mix well and make a paste.
Apply this paste to tanned areas and let it dry. It will normally take about 15-20 minutes to dry then wash it off with plain water.
3. Rice Flour 
To Remove Sun Tan
Rice flour is an excellent natural exfoliator. Exfoliation with rice flour can aid in tan removal quickly. Also, it will remove all dead skin cells and provide younger-looking radiant skin.
Take two tablespoons of rice powder. Add 2 tablespoons of milk and 1 teaspoon of honey to it. Mix it well and form a paste.
Apply this paste to affected areas and leave it for about 20 minutes. Then wash it off with plain water.
4. Turmeric and Raw Milk Or Milk Cream
Turmeric along with raw milk or milk cream can also be used to remove sun tan and treat sunburn. They can help correct your damaged skin and also provide a natural glow.
Take two tablespoons of milk and add a pinch of turmeric powder to it.
Apply it to tanned skin and let it dry. Then rinse it with cold water.
5. Use Tomato Juice With Yogurt To Remove Sun Tan
Tomato has natural tan removal properties and yogurt has natural bleaching properties. Tomato juice along with yogurt can treat tan, sunburn dark spots, and even pigmentation.
Take one tablespoon of tomato juice and add one tablespoon of yogurt to it.
Mix it well and apply it to tanned skin. Let it dry and later wash it with water.
6. Use Orange Juice With Yogurt
The vitamin C found in orange juice and the lactic acid present in yogurt can help you remove tan from affected areas easily.
Take 2 tablespoon yogurt and mix one tablespoon of orange juice in it and apply it to the tanned areas.
Leave it for about 30 to 45 minutes and then rinse it with water.
7. Potato and Lemon 
To Remove Sun Tan
Potato and lemon juice acts as a natural bleaching agent and helps in tan removal easily at home.
Take a medium potato and crush it to get the juice out of it. Add one tablespoon lemon juice to it and form a homogeneous mixture.
Apply this mixture to tanned skin and leave it for 20-30 minutes. Later wash it off with plain water.
8. Sandalwood ( Chandan Powder) Paste 
To Remove Sun Tan
Sandalwood powder is effectively used to treat tanned skin for its natural skin whitening and antiaging properties.
Take one tablespoon of sandalwood powder and add rose water to make a fine paste.
Apply this paste daily before you sleep or before taking a shower. Wash it off once dried.
 9. Use Fuller's Earth (Multani Mitti) With Aloe Vera Gel
Multani Mitti or Fuller's Earth has soothing effects on skin that can pacify sunburned skin, treat acne and pimples, and provide a natural glow. Aloe Vera gel has been used as a powerful home remedy to treat several skin problems for its soothing and moisturizing effects on the skin.
 Take 2 tablespoons of fuller's earth and one tablespoon of aloe vera gel.
Apply this mixture to tanned skin, let it dry then wash with cold water.
10. Baking Soda To Remove Sun Tan
Baking soda possesses surprising exfoliating impacts on your tanned and pigmented skin. When combined with water or coconut oil and applied to the affected area, it can also aid in tan removal helps in removing skin tan.
Make a paste of baking soda with water. Use it as a scrub to remove the tan from the affected area.
You can do this every alternate day before taking a shower.
11. Coconut Oil
Coconut oil contains moisturizing, soothing, and healing properties that can treat tan skin and sunburn. It will also exfoliate your skin and remove the layer of dead skin cells.
 Massage with coconut oil daily on affected areas before taking a shower or before going to bed.
These are 11 home remedies to remove sun tan easily, which can be used on the skin without damaging your skin with harmful chemical-based products. But note that before trying anything new on your skin, always check that you are not allergic to it (even kitchen ingredient), by applying a small portion of it on your hand first. I hope this post will be helpful to you in removing suntan. Do tell us in the comments below if any of these remedies worked for you.
Pin This Post For Future Reference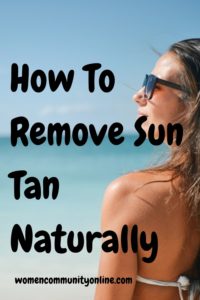 You May Also Like