What To Wear In Summer – Summer Outfits
In this post, let us know what to wear in summer that not only makes you feel comfortable but also looks stylish. The burning summer sun can make you sweat, feel exhausted, and even can cause irritation on the skin. But, you can protect yourself and stay away from some of these issues by dressing in the right garments and a proper summer skincare routine to dodge the weather. Here I am sharing a few tips to help you pick and wear the correct garments in Summer. Also, you can read here about the Summer Skin Care Routine For Healthy Skin.
A Guide On What To Wear In Summer Season
We always desire to look stylish in every season, but, the changing weather also changes our dressing perception. But the most important thing is to choose clothes for ourselves according to the weather so that not only our body but also our skin is protected. During summer, when choosing your summer clothing, opt for clothes that are light-colored and made from cotton or natural fabric. Sometimes choosing the wrong apparel can make you feel uncomfortable and sometimes embarrassed too especially in summer when we sweat more. Thus what you wear should be airy and a good absorber of sweat, so sweat evaporation faster and the fabric you have worn doesn't stick to your body.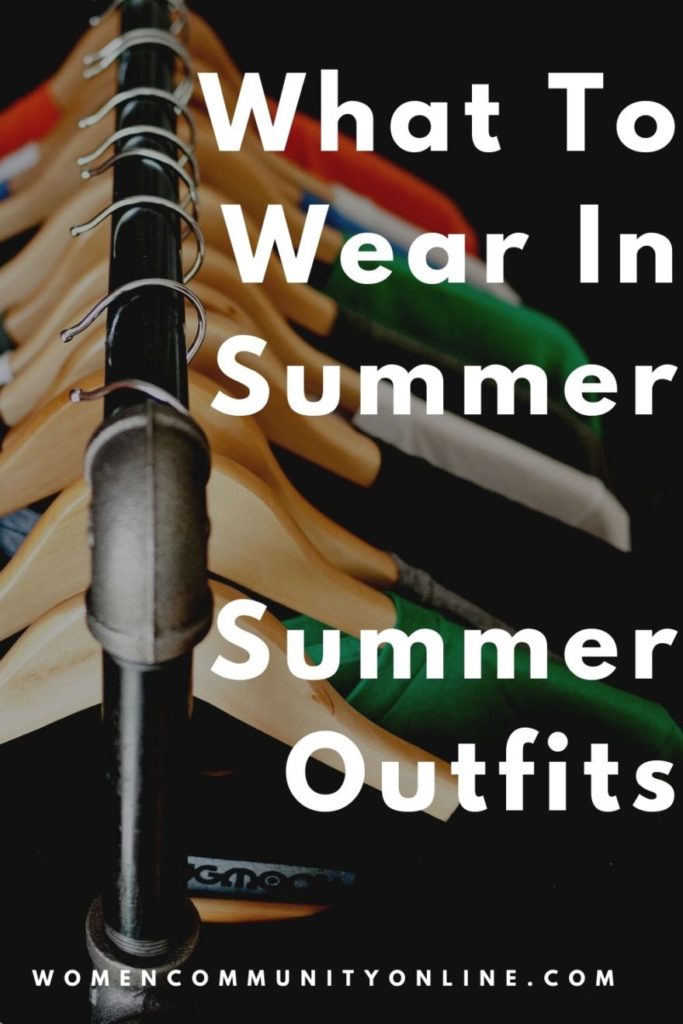 1. Choose Light-Colored Clothes
Light colors are preferred in summer as they act as reflectors of heat. They reflect heat and send it back from the surface and do not allow it to through your garments. Thus they absorb less heat and make us feel cool.
We should choose light-colored clothes in summer. By choosing cotton blend silk, chiffon, linen, georgette, handloom, and khadi fabric, we can protect our body from harmful sunlight, and we can also look stylish.
2. Choose Right And Comfortable Garments
In summer your body will certainly set more due to excessive atmospheric warmth. Wearing cotton or natural fabrics during summer makes you feel comfortable as they absorb sweat from the body. Cotton or natural fabric allows proper air circulation between the body, air, and clothes. Also, cotton can absorb sweat and provide a cooling effect, hence you will experience less sweating.
The right and perfect garment styles for summer are free jeans or long skirts with tops. Loose salwar kameez is additionally a decent alternative. If you are concerned about summer fashion, then, loose short kurti will look stylish on a slim girl. If your height is shorter then you should try loose and pocket kurtis.
3. Choose Right Fabric
Cotton, rayon, chiffon dresses natural fabrics can be worn for the formal look, which is also a part of the trend these days. You can wear the skirt of linen and georgette fabric in this scorching season. This will not only enhance your look, but you will also get relief from the weather.
Know that silk, satin, synthetic, nylon, velvet fabrics can introduce warmth to your body in summer. Therefore, avoid wearing heavy fabric. Synthetic tights and slacks should be avoided in summers.
Avoid wearing jackets and thick material tops. Wear pure cotton clothes in summer as its absorbent nature helps the skin respire and consequently, keeps the body temperature low. Cotton clothes prevent all kinds of allergies caused due to wearing synthetic clothes materials, especially in the summer.
4. No Tight Clothes
Keep in mind that even if your clothes are well fitted, avoid wearing tight-fitting clothes in the desire of enhancing your figure, particularly in summer you will not be comfortable in these clothes. Wearing loose garments helps in the movement of air in an outfit.
Refrain from wearing tight garments. During summer skin needs a lot of cool air and loose clothes can permit that. In summer, tight clothes stick to your body when you sweat. Due to which the risks of an infection increase.
Most girls like to wear a sleeveless dress to relieve heat, but this can tan or burn the skin of our hands in the sun. In this case, wear only full-sleeved clothes, half-sleeved shirts, or t-shirts. They are comfortable and best to wear in summer as they give you a cooler feel. If you choose to wear sleeveless apparel, use sunscreen to protect your skin.
5. Stay Well Hydrated
You must stay hydrated in the summer. A well-hydrated body has enough fluid and electrolytes to fight the heat and function properly. Keeping yourself hydrated will help the heart pump blood through the blood vessels to different body organs more easily. Fluids and electrolytes can be found in vegetables and fruits. Fruit juice and veggie soup are an enjoyment during the summer. Include mango, papaya, watermelon, litchi, plums, cucumbers, squash, beans, tomatoes, berries, in your diet especially in breakfast to stay hydrated and satisfied. Drinking plenty of water and stay away from alcohol, sugary drinks, and caffeinated beverages during the summer.
6. Protect Your Skin From Sunlight
Sun emits ultraviolet radiation (UVA, UVB, and UVC radiations), overexposure to these UV rays can have a hazardous effect on the skin and eyes. It can increase the risk of sunburn, eye injuries, skin damage, and even skin cancer. Avoid going under the sun between 10 am to 2 pm. This is the time when the sunlight is more intense. Protect your skin, eyes, and hair by following safety methods to beat the heat.
Always apply proper sunscreen before leaving the house. Apply on the exposed parts of your body first. Apply a lip balm to protect lips from drying out. Wear sunglasses that protect your eyes from the UVA and UVB rays. Take a cap, scarf, or umbrella while going out. These will cover your head and protect you from the harmful UV rays of the sun. Additionally, your eyes and skin are also secured and you will tan less.
These were some reliable summer outfits and fashion tips to consider during summer. Stay hydrated, wear sunscreen, opt for light color, serene, and natural fabric attires, and have a cheerful and happy summer.
You May Also Like