Vallabhbhai Patel – the Iron man of India
Vallabhbhai Patel – the Iron man of India, was born on 31 October 1875 in Nadiad city of Kheda district in Gujarat. He is well known as Sardar and Sardar Patel.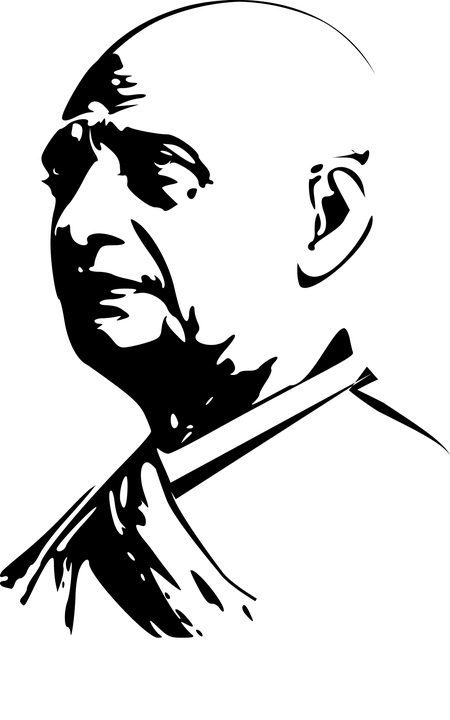 Vallabhbhai Patel – the Iron man of India
The full name of Vallabhbhai Patel was Vallabhbhai Jhaverbhai Patel. He was born to a simple father Jhaverbhai Patel and noblewoman Laad Bai. Right from childhood, Vallabhbhai Patel was a very hard-working individual. He used to work with his farmer father in farms and also complete his education. Vallabhbhai Patel went to England for his further studies and became a barrister.
After he came back, he became a well-known and one of the qualified barristers of Ahmedabad. Sardar Vallabhbhai Patel became an Indian lawyer as well as a politician. He was against the idea of servitude of the Britishers. He soon joined the Indian freedom movement. Moreover, Sardar Patel worked widely with the civil servants and administrators. He worked hard to establish a nationwide centralized system across the country. It's because of this reason he is also referred to as the patron saint of our civil services.
Vallabhbhai Patel was one of the leaders of the Indian National Congress. He was also one of the establishers of the Indian Republic. Sardar Patel was one of the brave leaders who participated in the freedom struggle of India. During India's independence, he played a major role in forming political policies. His wisdom, ideas, and policies are a foundation of India's growth.
He became the first Deputy Prime Minister and Home Minister of India. Sardar Vallabhbhai Patel played an important role in the post-independence of India. He successfully united around 565 royal states after independence. His mental abilities and his physical strength were admirable. That is why Vallabhbhai Patel was titled Lokhandi Purush means the Iron Man of India. The India that we see today is a result of the hard work of this great leader Vallabhbhai Patel.
Sardar Patel was one of the most prominent leaders of the Indian National Congress. He actively organized the mass civil disobedience protests in Gujarat. He was noted as very close to Mahatma Gandhi. In Bardoli Satyagraha, the farmers were deeply pleased with his leadership and contribution. So, they affectionately named him Sardar in 1928.
Sardar Patel suffered a major heart attack at the age of 75 and India lost a great leader on 15th December 1950. In 1991, he received India's highest civilian honor Bharat Ratna. In 2014, his birth anniversary was declared as the Rashtriya Ekta Divas.
Statue of Unity
The Sardar Sarovar Dam is a gravity dam, a hydroelectric power station near Navagam. It is a Memorials to Vallabhbhai Patel – the Iron Man of India, on the Narmada river in Gujarat, India. The Statue of Unity accounts for a memorial statue dedicated to Sardar Vallabhbhai Patel. It's facing the Sardar Sarovar Narmada Dam, on the Sadhu Bet near Rajpipla. It's the tallest statue in the world with a height of 182 meters and the dream project of PM Narendra Modi. Prime Minister Shree Narendra Modi had unveiled the Statue of Unity on 31st October 2018. The statue can withstand heavy winds and the earthquake. This statue will be a center of attraction for many tourists all over the world.
A big salute to Vallabhbhai Patel – the Iron man of India, on his birth anniversary. His service and contribution to India are praiseworthy which can never be forgotten.
You May Also Like